Joanne Cu Receives Healthcare Visionary Award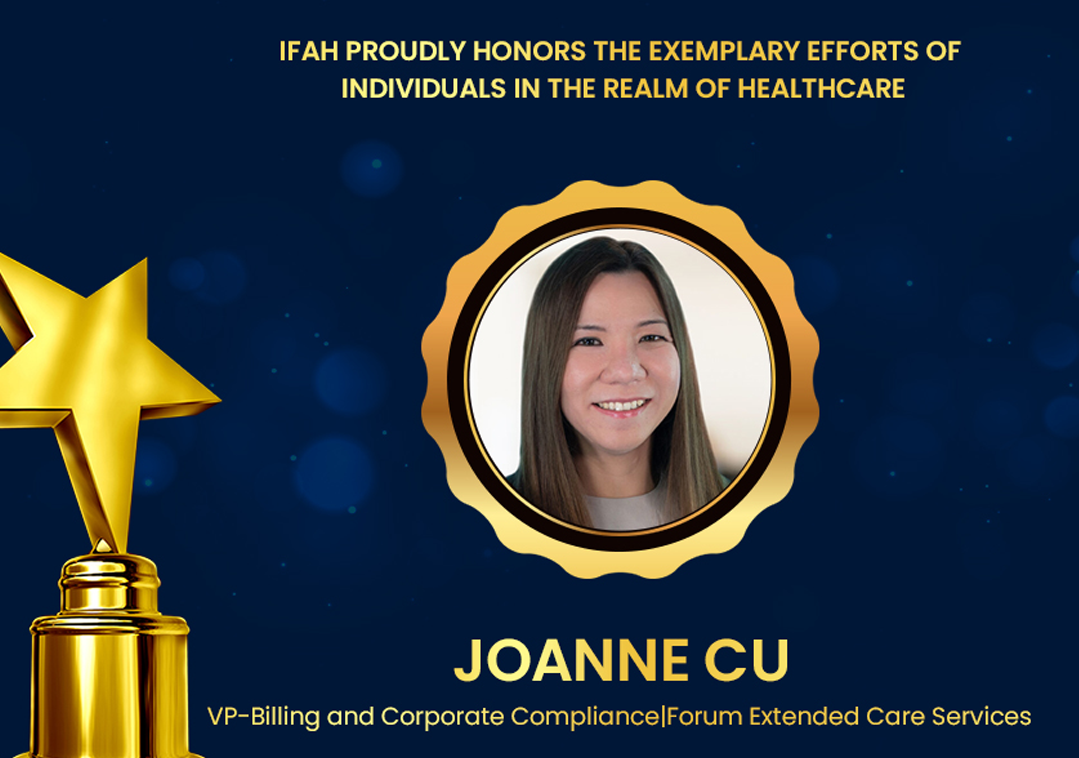 The International Forum on Advancements in Healthcare (IFAH) has named Joanne Cu, Vice President of Billing and Corporate Compliance for Forum Extended Care Services, as one of its Top 100 Healthcare Visionaries.
The Health Care Visionaries award honors the brightest minds and organizations that have made immense progress in the healthcare industry. Five parameters comprise the basis for the award: overall reach, industry impact, spirit of innovation, future readiness, and market demand. After careful consideration and extensive research, the committee and IFAH management rate each applicant on every parameter in selecting the final honorees.
"Over the 15 years that Joanne has been part of Forum, she has proven to be an invaluable leader and innovator. She was instrumental in advancing our Lean Six Sigma initiatives that ensure quality and efficiency in our core business of providing medications and supplies to seniors," said Pamela Bryan Kramer, Forum's Executive Vice President. "We congratulate Joanne and are truly honored to have her as a key leader."
After working with a skilled nursing provider, Cu joined Forum in 2004 as Billing and Reimbursement Manager. Through increasingly expanding assignments, she advanced to her current position and serves as the Chief Compliance Officer. Cu holds a Bachelor of Science in Management Economics and a Master's in Business Administration, and is a Licensed Pharmacy Technician. She also has received certification in Business Information Systems and Healthcare Compliance, as well as a Green Belt in Lean Six Sigma.
The award was presented at the IFAH Global Healthcare Conference held in Las Vegas, June 23-25. Previously known as the Smart Health Conference, it is one of the world's top healthcare conferences, bringing together health and wellness professionals to discuss vital concerns and explore the opportunities of building the future of the sector.