CMS COVID Updates to Align With CDC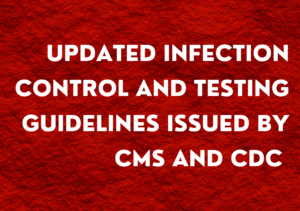 Revised infection control and testing guidelines were released last week in a joint statement by the Centers for Medicare & Medicaid Services (CMS) and the Centers for Disease Control and Prevention (CDC). As noted by the CDC, these updates have been made to reflect the high levels of COVID-19 vaccine- and infection-induced immunity, as well as the general availability of effective treatments and prevention tools.
The key changes outlined in the guidance for COVID-19 infection prevention and control update include:
Vaccination status is no longer used to inform source control

, screening testing, or post-exposure (eg, work restriction, quarantine) recommendations.

Standalone guidance for nursing homes is being archived and any setting-specific recommendations have been added to Section 3 of the main guidance.

When community transmission levels

are high, source control is recommended for everyone

in

areas where they could encounter patients.

Health care personnel could choose not to wear source control when in areas restricted from patient access, although many experts continue to recommend masking.

Testing changes include recommendations for a series of 3 tests for asymptomatic individuals following exposure to someone with COVID‐19 infection. 

Testing is generally not recommended for asymptomatic nursing home personnel

who have not had a recognized exposure.

No longer routinely recommending quarantine

(for patients)

or work restrictions

(for healthcare personnel) for asymptomatic individuals following COVID‐19 exposures.
Click here to read more and to download a tip sheet with the revised guidelines.
Complete the form to download the tip sheet.