Improve EMAR Skills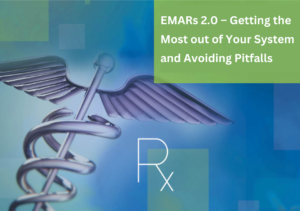 Electronic medication ordering systems have improved the speed and accuracy of pharmacy transactions. All systems, however, are not alike. Forum's recent webinar, EMARS 2.0—Getting the Most Out of Your System and Avoid Pitfalls, offers information and advice on how to work with facility- and pharmacy-pushed interfaces successfully.
Discover why:
Imprecise submissions may create a resident safety issue.
Understand why precise start/end days matter.
Identifying an in-house specialist improves the medication ordering process.
Awareness of how your interface communicates with your pharmacy provider's system can increase your efficiency, accuracy, and delivery.
Complete the form to download the tip sheet.