Forum Joins Long-Term Care Pharmacy Leaders Calling for Support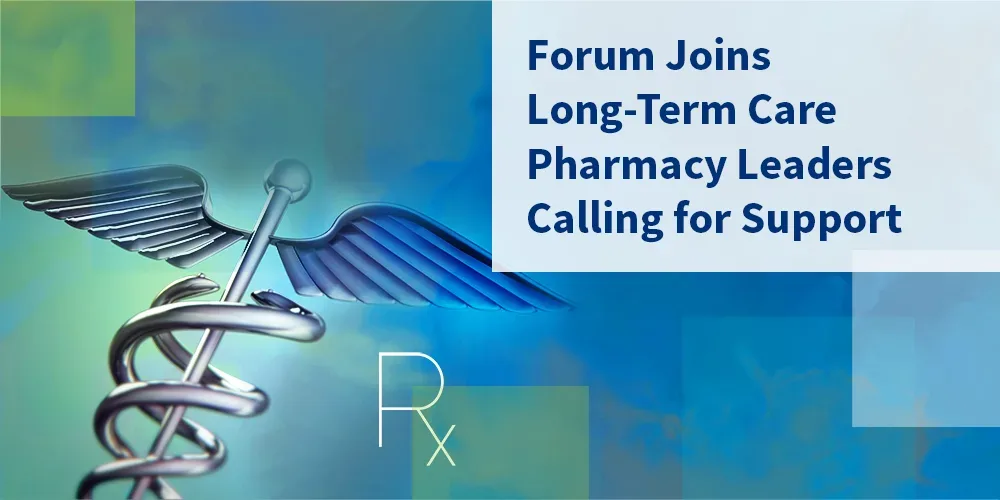 Forum Joins Long-Term Care Pharmacy Leaders Calling for Support
Now more than ever, long-term care (LTC) pharmacies have demonstrated their vital role in protecting the health and safety of a diverse and vulnerable patient population. These past months managing the COVID-19 pandemic have put LTC pharmacies among the ranks of other front-line healthcare workers working diligently to care for residents and staff.
That is why a group of 12 of the nation's leading LTC pharmacies, including Forum Extended Care Services, reached out to Congress to mobilize support for challenges presented by the COVID-19 pandemic. Signed by representatives of the Senior Care Pharmacy Coalition (SCPC), the letter specifically asked Congress to provide financial relief for LTC pharmacies that have been largely ignored in receiving COVID-19 support.
As an essential partner in long-term care with the same financial implications as nursing homes and assisted living communities, LTC pharmacies are fighting to prevent interruptions in access to essential, life-saving medications and critical patient-care services. Each day, two million Americans in long-term care facilities rely on these pharmacies to manage and deliver their medications, with the average person prescribed 12 to 13 medications per day.
From the onset of the pandemic, Forum has taken proactive steps to monitor supply chains and access to critical medications, as well as shore up critical infection control-related supplies.
"The need for personal protection equipment (PPE), in particular, has been a critical concern throughout the COVID-19 crisis. We anticipated early on that supplies could reach dangerously low levels and mobilized our resources to purchase quantities in excess to ensure our customers had a stable inventory of masks, gloves, and gowns," said Brian Kramer, RPh, MBA, President and CIO of Forum.
"The rally of healthcare workers, including our own pharmacy teams, has been astounding to witness.  For example, when hand sanitizer was nearly impossible to locate, we sourced and delivered to our customers. And as supplies ran out, our team began compounding large batches for use," he added. "To defray the financial impact on our healthcare partners, Forum provided critical PPE at cost to support our colleagues' front-line fight."
These are just a few of the scenarios played out during COVID-19, reinforcing the need for stable and dynamic independent LTC pharmacies.  While the sector struggles to keep costs low for seniors, they also support facilities by improving patient outcomes and optimizing Medicare savings.
As one of the founding members and board directors of SCPC, Forum shares the group's mission to represent legislative interests of independent long-term care pharmacies and the vulnerable patients they serve, now more than ever.