Addressing OIG's Increasing Scrutiny of Hospital Readmissions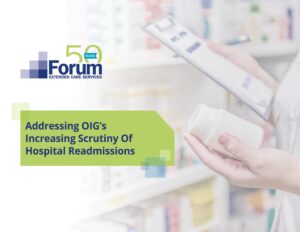 Hospital readmissions take on more scrutiny as a core quality metric by the Health and Human Services Office of the Inspector General (OIG) as it looks closely at "possibly preventable" transfers of skilled nursing facility (SNF) residents. An expanded audit is part of the OIG's growing oversight of unnecessary hospitalizations among Medicare-eligible skilled nursing residents.
Taken all together, financial incentives, penalties, and increased audit activity reflect a concerted federal policy initiative to reduce rehospitalizations. Specifically, OIG is exploring whether SNFs could have done more to prevent these conditions and the subsequent hospital readmission. With audits looming, SNF should get their audit-readiness plans in order.
In the past, OIG focused on transfers to hospitals of patients with urinary tract infections, a condition that is often preventable and treatable in a (SNF without requiring hospitalization.  Now, OIG will review hospitalizations of SNF residents with any of the five conditions that account for 78% of transfers:
Pneumonia;

Congestive heart failure;

UTI; 

Dehydration:

Chronic obstructive pulmonary disease/asthma; and

Sepsis will also be included as it is preventable if the underlying cause is preventable.
A JAMA study last year found that nearly 25% of those admitted to SNFs are readmitted to a hospital within 30 days, and those readmissions are associated with a 4x mortality rate within 6 months.
Complete the form for your free download.