Vaccine Mandates, Booster Recommendations Announced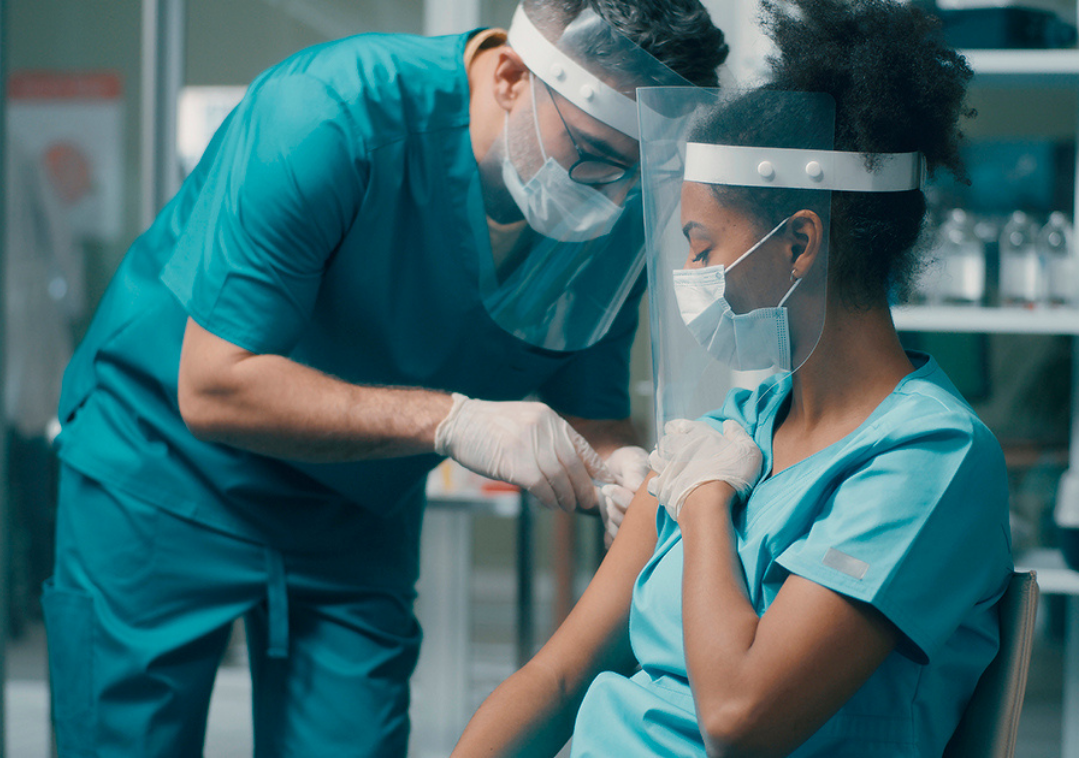 COVID-19 vaccine mandates and booster recommendations are on the fast track. The federal government has made announcements on several fronts recently, with phased-in requirement dates set for mandatory vaccinations for certain groups. Most significantly, all healthcare workers, including long-term care staff, must be fully vaccinated against COVID-19 by January 4, 2022, according to the new rule released by the Centers for Medicare & Medicaid Services (CMS).
Phase One Requirements – SNFs, NFs, ICF-IIDs
By December 5, 2021, skilled nursing, nursing, and intermediate care facilities must establish policies ensuring that all eligible staff have received at least the first dose of a two-dose COVID-19 vaccine or a one-dose vaccine. Unless granted an exemption, this requirement must be enforced before employees may provide any care, treatment, or other services to residents or patients. Staff included in the mandate are facility employees, licensed practitioners, students, trainees, volunteers, and anyone under contract or other arrangement with the facility. On the federal level, individuals who are 100% teleworkers are not included; however, the Illinois Governor's COVID-19 vaccination mandate, Executive Order 2021-22, does not make this distinction.
Phase Two Requirements – SNFs, NFs, ICF-IIDs
Effective January 5, 2022, staff in the facilities described above must have completed their primary vaccination series and be fully vaccinated. Only exceptions are for those who have been granted exemption or those for whom vaccination was temporarily delayed due to clinical precautions or considerations.
Assisted Living Requirements
At a federal level, this sector of the industry must comply with the Occupational Safety and Health Administration's (OSHA) emergency temporary standard for employers with more than 100 employees, which was released and went into effect earlier this year. This standard requires covered employers to conduct a hazard assessment and have a written plan to mitigate virus spread. It also mandates that healthcare employers (such as ALFs) provide certain employees with N95 respirators or other personal protective equipment, among other requirements. Keep in mind that Illinois operators are still subject to the Governor's Executive Order 2021-22.
Update on Additional Vaccine Doses
In addition to Pfizer/BioNTech's 3rd dose for immunocompromised individuals as soon as 28 days after completion of initial vaccination, the Food and Drug Administration (FDA) announced late last month that it was amending Emergency Use Authorizations for both the Moderna and Janssen/Johnson & Johnson vaccines to join the Pfizer-BioNtech shot for use as single booster doses in eligible groups at least 6 months after completion of initial vaccination. These include individuals 65 years of age and older, those 18-64 at high risk of severe COVID, and people 18-64 with frequent institutional or occupational exposure to the coronavirus (such as long-term care facility residents and healthcare workers). Clinicians can match a booster to the patient's primary vaccination or use a different vaccine, the FDA noted.
For more information, resources include: CMS and OSHA Mandates, OSHA Standards, FAQ on CMS Vaccination Final Rule and FDA Booster Update.