Forum Continues Free Webinars, Postponing Annual Symposium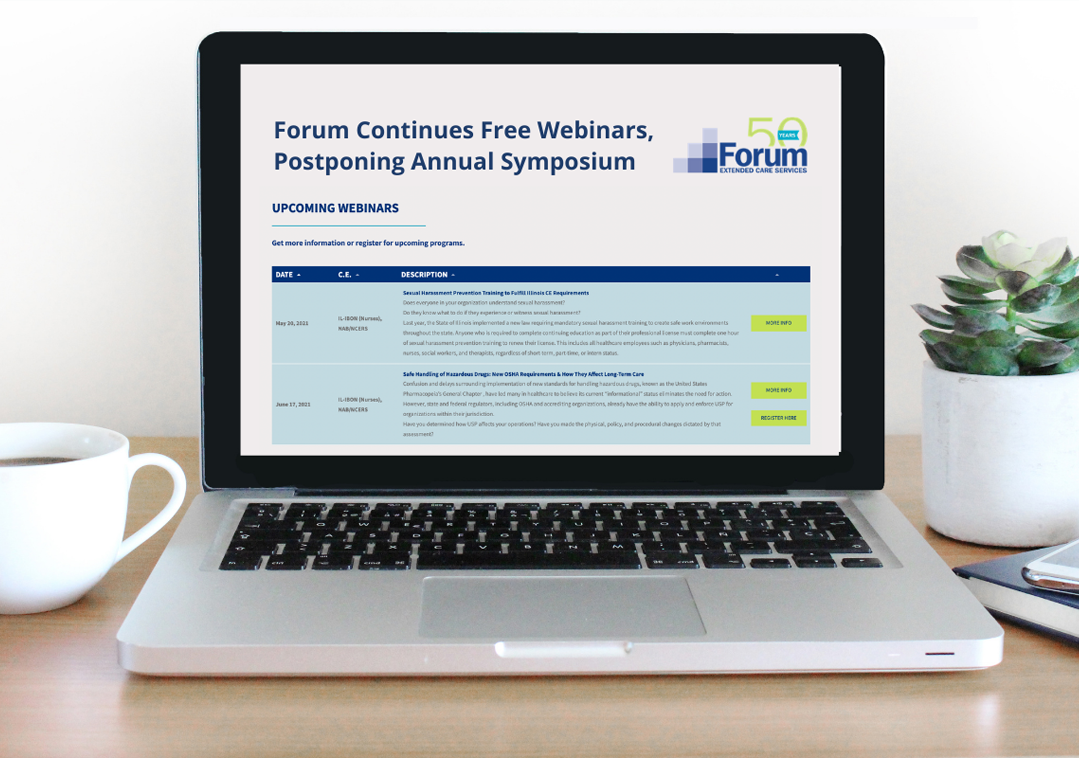 For the past five years, Forum Extended Care Services has hosted its successful Forum on Post-Acute, Long-Term Care, and Assisted Living. It was converted to a live virtual platform in 2020 due to health and safety concerns resulting from the coronavirus pandemic.  After careful consideration, the pharmacy has decided to postpone it's popular in-person live event again for 2021 and resume in June of 2022.
Building on the success of its first virtual conference in June of 2020, Forum initiated an ongoing monthly webinar program to offer free continuing education, which continues to this day. Recognized as a valuable option for free education credits, the monthly webinars support nursing professionals and administrators in their commitment to advancing professional development. Following the live webinar, each is converted to an on-demand alternative that also provides free CEUs. Currently more than 15 on-demand programs are available with new additions each month, including the Sexual Harassment Prevention Training to Fulfill Illinois CE Requirements held in May that exceeded capacity.
"Professional development remains a steadfast value for Forum. Feedback from our monthly programs suggested that participants appreciate the convenience of fulfilling their requirement through webinars, especially the on-demand program," said Pamela Bryan Kramer, Executive Vice President at Forum. "The monthly program has been an important venue to present timely information when it is most relevant."
Upcoming live webinars include Safe Handling of Hazardous Drugs: New OSHA Requirements & How They Affect Long-Term Care on June 17 and Transformation: Key Takeaways from the LeadingAge Illinois Annual Meeting on July 22.
The full listing of on-demand programs, as well as live monthly webinars, is available on the Forum website. To register for any of the live or on-demand sessions, click here.