Nursing Homes See More Vaccinations, Fewer Infections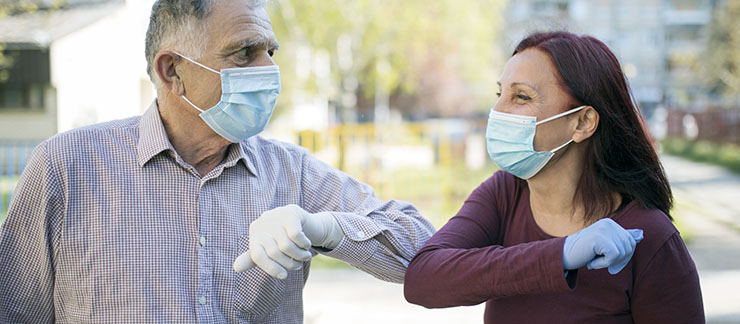 COVID-19 infection rates in skilled nursing facilities are finally showing a downward trend, which is likely to continue as vaccines are administered to residents and staff. Data published in NIC's Skilled Nursing COVID-19 Tracker for the week ending February 7 showed that new confirmed cases in skilled nursing homes fell 83% over the last seven weeks. This decline is far ahead of the general population, which saw a 47% decline during those same weeks.
Another study conducted by the American Health Care Association (AHCA) is the first to show the direct link between COVID-19 vaccines and infection transmission in long-term care. In their analysis of nearly 800 nursing homes, 48% experienced a decline in new resident cases of COVID-19 three weeks after their first onsite vaccine clinic. Staff cases also were down by 33%. The study also showed that unvaccinated nursing homes in the same county did not have the same level of decline as their vaccinated counterparts.
Most participating nursing homes (85%) have completed a second round of vaccination clinics, while three-fourths of assisted living and other senior living communities have finished their first-round clinics. Nonetheless, a goal of all long-term care facilities completing their shots by March 1, set by the American Health Care Association/National Center for Assisted Living (AHCA/NCAL) in December, is unlikely to be met due to issues with the initial federal rollout and restrictions on pharmacy participation, as well as vaccine hesitancy among residents and staff.
While long-term care facilities struggle with these issues, governors are asking for a greater role in getting people in their states vaccinated.  A letter sent to the White House by a bipartisan group of state leaders says the original federal delivery strategy, which uses several different vaccination programs, is confusing. The signers suggest that "federal decisions to use pharmacies and federally qualified health centers should be coordinated with state governments." They further observe that states know each pharmacy provider's capabilities better, as well as the needs of the communities they serve.
The results of these reports show promise moving forward as nursing homes have struggled to manage the pandemic for the past year. Click to read the NIC report and for information about the AHCA study.